Interview with a member of the SAR 🚁🛟
On this occasion we are going to interview a colleague from the SAR who has given us a super complete and interesting interview, also and as always this interview has been thanks to our staff from our Discord channel, if you want to participate in future interviews join our channel by clicking here .
We hope you like it:
1.- Before joining the SAR, were you in any other unit? If so, could you tell us which one?
No, this is my first destination. Also, he was my first choice when applying to the Armed Forces. Although I had some interest in other units, I always knew that my path was directed and oriented towards the world of rescue . I found out which units carried out search and rescue functions within the Armed Forces and the truth is that I was right with this unit. These types of units are most rewarding when it comes to learning and performing these tasks.
2.- For those who don't know, could you explain to us what the SAR is and what it does?
SAR (Search and Rescue) units are air search and rescue units. In the case of Ala 49, the main role is to carry out search and rescue and maritime surveillance missions (VIGMA) with two aircraft: the HD-21 Super Puma helicopter and the D-4 CASA CN235 aircraft, which are in alarm permanent 24 hours a day .
On the other hand, the SAR is responsible for action in the event of any air, land or maritime accident. Its mission has been defined as follows: "Its mission is to locate damaged aircraft and try to get help or rescue to potential survivors as soon as possible."
We are also dedicated to carrying out practices, exercises and training of said activities (simulated searches on the high seas, launching rafts, survival practices at sea, handling of radio beacons and equipment...) to be fully prepared for when some type of incident occurs. accident .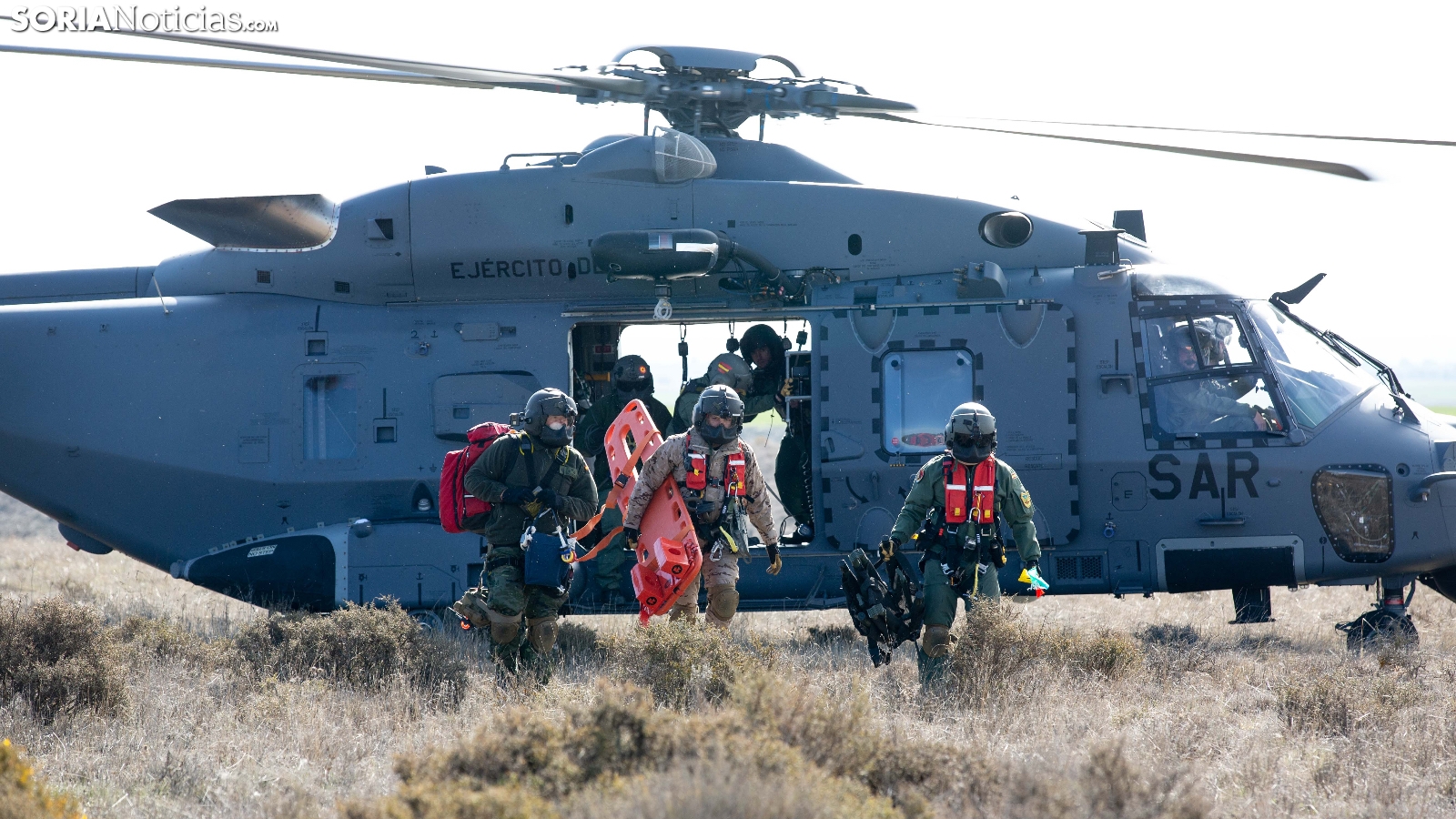 3.- How is it organized and where in Spain is it present?
SAR units are distributed throughout the Spanish territory with their corresponding areas of responsibility (FIR). There are three squadrons trained to carry out the SAR mission as the main role:
801 Squadron : is located in Palma de Mallorca, Balearic Islands. This is the responsibility of the FIR BARCELONA.
802 Squadron : is located in Las Palmas de Gran Canaria, Canary Islands. Its area of ​​responsibility is the CANARIAS FIR.
803 Squadron : located in Getafe, Madrid. It is responsible for the FIR MADRID.
4.- Do you like day or night operations more?
For my taste it is indifferent. Both are quite gratifying when performing SAR functions or VIGMA operations , they have the same similarity when it comes to working and at an operational level. Although it is true that when night operations are carried out, the operation is more difficult due to the lack of visibility, making it more arduous.
5.- What do you think of the 801 squadron?
Squadron 801 is for me a benchmark in the field of professionalism and dedication, with highly qualified personnel trained to carry out SAR and VIGMA operations.
It has been active since 1954, with the creation of the 50th Rescue Squad, being the first SAR to operate in Spain. It has completed a total of 116,300 flight hours, with more than 4,000 hours in real operations (rescues, escorts, evacuations, maritime surveillance missions, etc.). In addition, the unit maintains the constant development of its capabilities by participating in international and national exercises and collaborating with both civil and military organizations that so request.
Also worth noting is its participation in international missions , such as Peacekeeping Operations (PMO): Operation Atalante (Fight against piracy and illegal human trafficking), Operation Sophia, Operation ISAF, etc.
Throughout its history, the 801 Squadron of the FF.AA. it has operated six types of aircraft, three airplanes and three helicopters ; among the former we find the SA/HU-16 Grumman (1954-1978), CASA C-127 (1963-1974) and CASA C-212 Aviocar (since 1979); among the helicopters, the AUGUSTA-BELL 205 (1967-1983), AS-332 Super Puma (1983-1994) and SA-33 Grumman.
6.- What is required to be a helicopter mechanic/crane operator?
To be a flight mechanic/crane operator, one would have to access via the Noncommissioned Officer scale in the Mechanical Maintenance specialty . Once the training is finished, it will be necessary to observe if any of the vacancies offered appears as a helicopter air crew member in Wing 49 - Mallorca, Wing 48 - Madrid or Wing 46 - Canarias, which correspond to squadron 801, 803 and 802 respectively .
7.- What requirements are needed to be a CN-235 crew?
It will be possible to obtain a place as a crew member in the CN-235 from the scale of Troops and Sailors, Non-commissioned officers or Officers, depending on the position that is performed. This type of position requires extensive knowledge regarding the handling of aircraft mission equipment and systems in the case of the operator position, as well as specific training for the position of diver.
To opt for the published vacancies of air crew, in the case of operator and searcher, an instruction and evaluation plan must be passed in the unit. An unfit may lead to the loss of destination. The operator will focus on the study and management of the manual of the different mission systems of the aircraft, while the seeker will emphasize the good handling of the different cameras and the skill in procedures such as the launching of rafts or flares.
8.- What do you have to do to be a rescuer?
It will be possible to opt for a rescuer position from the Troops and Sailors, NCOs or Officers school. Although it is true that this place requires a high psycho-physical preparation , as shown by the requirement of their physical tests.
To access directly from the Troop and Sailors scale, it will be necessary to verify in the Official State Gazette (BOE) that the offered place is for one of the SAR squadrons and the diver/swimmer aptitude is required in the observations.
Once the place has been assigned, an instruction plan will be passed in the excluding unit, which may cause the loss of destination.
9.- What is the worst thing you have seen in a rescue?
In March 2022 , a nationwide maritime surveillance operation was conducted with our D-4 VIGMA. A mere hour after dusk began in the Cádiz area, the operator detected a possible small radar contact with a somewhat strange and variable course. We decided to remain in the area to analyze the situation and, performing a sweep with the FLIR in infrared mode.
After several sweeps, we realized that it was a small boat of no more than 8 meters in length with a person on board in a state of despair (He signaled by waving a reflective vest and moving both arms energetically). It was then that we identified the contact as an alert vessel in a situation with lives in danger, thus beginning the corresponding procedure to protect the physical integrity of that person.
Despite the fact that it had good buoyancy and a life jacket, the boat did not have a radio equipped to establish communication with any means. Contact was made with Almeria maritime rescue , which left immediately before there was less visibility at nightfall, and the rescue was carried out successfully. The person who was adrift turned out to be a fisherman who went off the fishing route due to engine failure. Finally, everything was in a fright and he returned home safe and sound.
In addition, when maritime surveillance operations are carried out at the national or NATO level, we detect multiple migration contacts that occur in our waters of responsibility, situations that are not always pleasant.
10.- In any rescue did you feel it was better to leave?
never . Whenever fuel and resources allow, we remain in the zone until the last moment. Otherwise it would be running away from our work and our obligation as professionals and soldiers.
11.- How is your preparation?
We carry out daily training for all types of searches, whether at sea or on land (different search patterns at different heights and tessituras, reconnaissance of vessels, reconnaissance of the coast and search in this...)
Also in the helicopter, the rescuers are constantly carrying out drills in order to be prepared and qualified to activate in any event.
12.- What is a normal day like at work?
Our daily work is mainly dedicated to the preparation of the ground mission . Depending on the dependency to which he is assigned, he will work in areas as diverse as the management of aircraft operations (flight hours, crew training, exercise coordination...), cartography, flight safety, maintenance teams, mission support centers...
The work in flight consists of carrying out exercises, missions and SAR and maritime surveillance drills, always keeping the crews prepared.
13.- What advice or recommendation would you give to someone who wants to join the SAR?
I would recommend that they acquire a good knowledge and information about what the SAR and its units are: how they work, what their role is and how they operate . In the same way, and although the training of the crews is carried out entirely in the unit, it would be convenient if there is an opportunity to take a course related to the sector, be it maritime safety training, rescue boats (fast and non-fast), survivor boats, heliborne rescue swimmer or diver among others.
We read you in the comments.